What is Afficient English?
An adaptive computerized program designed to help students, of Grade 2 and above, develop a strong foundation in Reading Comprehension, Writing, and Language Acquisition Skills and Vocabulary. Contents of Afficient English are aligned with standard requirements in US schools.
For students enrolled in our physical learning centers, they do portions of the weekly assignment at an Afficient Academy learning center under the supervision of teachers and do the rest of the assignment at home.
For students who do not live near a learning center, they can enroll in our remote program where they will be closely monitored by an advisor who they can ask for help via emails or video sessions upon request.
Outcome of Afficient English
Leveraged by modern technologies, its unique workflow and the supervision of learning center or remote teachers, Afficient English significantly enhances learning quality and efficiency of students.
Our system intelligently leads students to learn and practice, until all the skills are fully mastered, and the goal of each grade is achieved.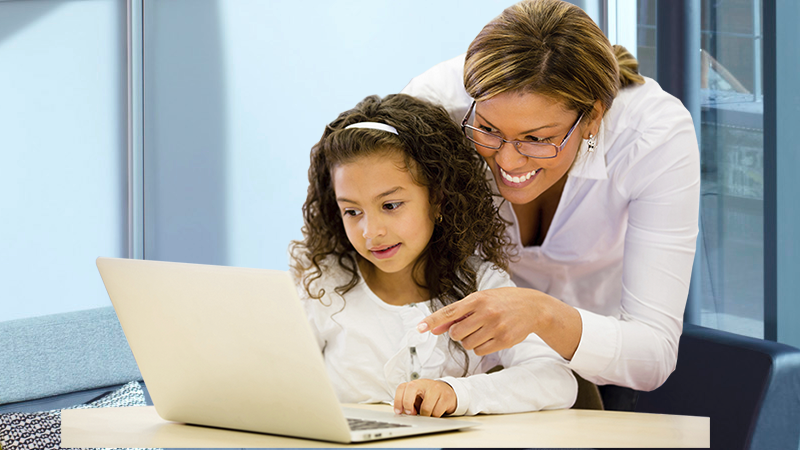 Main Advantages of Afficient English
Instant feedback on student's work, no need to wait for worksheets to be graded manually

A unique flow to ensure excellent outcome through extensive optimization

Constant grade level score availability, students know how far they are from their goals

Customized weekly assignments

Real-time updates on the execution of weekly assignments

Supervised and monitored by learning center teachers

Prompt communication with parents on student's progress
Course Catalog – Language Arts
Chapter 1: Using Evidence to Ask and Answer Questions
1.1 Knowing the Different Types of Stories
1.2 Asking Important Questions about Stories
1.3 Finding the Answers to Important Questions in Stories
1.4 Finding Evidence in Stories
1.5 Answering Questions in Complete Sentences
1.6 Giving Evidence in Complete Sentences
1.7 Using Common, Proper, and Possessive Nouns
1.8 Knowing How to Spell Digraphs
1.9 Capitalizing Names and Dates
1.10 Reading Words with Short Vowel Sounds
1.11 Using Nonfiction Text Tools
1.12 Asking Important Questions about Nonfiction Texts
1.13 Answering Important Questions about Nonfiction Texts
1.14 Giving Evidence for Important Questions about Nonfiction Texts
Chapter 2: Parts of a Story
2.1 Knowing the Parts of a Story
2.2 Finding Important Details in Stories
2.3 Finding the Main Topic of a Nonfiction Text
2.4 Finding the Topic of a Paragraph in a Nonfiction Text
2.5 Use Collective Nouns
2.6 Capitalize Holidays, Brands, and Places
2.7 Know Long Vowel Patterns
2.8 Choosing a Writing Topic
2.9 Telling a Story from Beginning to End
2.10 Showing Actions and Feelings in Writing
Chapter 3: Reading and Retelling
3.1 Retelling Stories
3.2 Finding the Plot of a Story
3.3 Finding Important Details in Nonfiction Texts
3.4 Using Different Kinds of Pictures in Nonfiction Texts
3.5 Using Regular Singular and Plural Nouns
3.6 Using Irregular Singular and Plural Nouns
3.7 Use Punctuation Marks for Sentences
3.8 Read Short and Long Vowel Sounds
3.9 Showing Characters' Thoughts in Writing
3.10 Using Time Order Words in Stories
Chapter 4: Impact
4.1 Figuring Out Characters in Stories
4.2 Finding How Characters Affect Each Other
4.3 Understanding Ideas About Science
4.4 Finding Cause and Effect in Nonfiction
4.5 Use Commas in Letters
4.6 Use Prefixes
4.7 Read New Vowel Sounds
4.8 Knowing Who Your Story Is About
4.9 Using Your Five Senses to Describe
Chapter 5: Sequencing and Order
5.1 Finding Cause and Effect in Stories
5.2 Finding the Order of Events in a Story
5.3 Finding the Order of Events in a Nonfiction Text
5.4 Using Pronouns
5.5 Using Indefinite Pronouns
5.6 Use Commas in Dates and Lists
5.7 Including Important Facts in Teaching Articles
5.8 Writing a Topic Sentence for a Teaching Article
Chapter 6: Definitions and Details
6.1 Understanding Poetry
6.2 Understanding a Process in Order
6.3 Finding New Words
6.4 Making Connections
6.5 Use Reflexive Pronouns
6.6 Figure Out Compound Words
6.7 Use Contractions
6.8 Including Definitions in Teaching Articles
6.9 Writing Concluding Sentences for Teaching Articles
Chapter 7: Different forms of text
7.1 Understanding Rhythm in Poetry
7.2 Finding the Lesson of a Story
7.3 Retelling Important Details from Nonfiction Texts
7.4 Use Verb Tenses
7.5 Use Suffixes
7.6 Count Syllables in Words
7.7 Make Subjects and Verbs Agree
7.8 Understand Different Types of Writing
Chapter 8: Point-of-View and Purpose
8.1 Finding Who is Telling the Story
8.2 Finding Characters' Opinions
8.3 Finding the Author's Purpose
8.4 Use ABC Order to Find Words in a Dictionary
8.5 Read Words with Ending Sounds
8.6 Form Irregular Past Tense Verbs
8.7 Choosing an Opinion for an Opinion Article
8.8 Writing a Topic Sentence for an Opinion Article
Chapter 9: Using Opinion in a Story
9.1 Find the Type of Problem in a Story
9.2 Finding How the Character Changes
9.3 Finding the Reasons the Author Uses to Support an Opinion
9.4 Use Drawings to Understand the Story
9.5 Understanding Adjectives
9.6 Understanding Adjectives and Adverbs
9.7 Use Unique Verbs and Adjectives
9.8 Giving Reasons to Prove an Opinion
9.9 Using Connecting Words in Opinion Articles
9.10 Writing a Concluding Sentence for an Opinion Article
Chapter 10: Making Changes to Writing
10.1 Using Text Tools at the Beginning and End of Nonfiction Texts
10.2 Compare Two Nonfiction Texts
10.3 Use Conjunctions
10.4 Find Definitions Using Dictionaries and Glossaries
10.5 Read Letters That Make More Than One Sound
10.6 Revising Writing
10.7 Editing Writing
Chapter 11: Comparing and Researching
11.1 Comparing Two Similar Folktales
11.2 Understanding Sentences
11.3 Use Articles and Pointer Words
11.4 Use Prepositions
11.5 Using Different Types of Sentences
11.6 Read Sight Words
11.7 Asking Questions for a Research Article
11.8 Finding Texts for a Research Article
Chapter 1: Using Evidence to Ask and Answer Questions
1.1 Read Between the Lines
1.2 Find Evidence to Answer Questions
1.3 Answer Questions by Explaining Evidence
1.4 Explain the Jobs of Different Parts of Speech
1.5 Capitalize Titles
1.6 Identify Word Parts
1.7 Access Background Knowledge
1.8 Plan Writing
Chapter 2: Parts of a Text
2.1 Know the Different Types of Fiction
2.2 Find the Parts of a Story
2.3 Find the Main Topic and Main Idea of a Nonfiction Text
2.4 Find the Author's Purpose and Key Details
2.5 Use All Types of Plural Nouns
2.6 Use Commas in Addresses
2.7 Write a Catchy Lead for Your Story
Chapter 3: Messages, Morals, and Main Ideas
3.1 Retell a Story
3.2 Find the Lesson or Moral of a Story
3.3 Find the Topic Sentence and Key Details in a Paragraph
3.4 Use Nouns for Ideas
3.4 Use Commas and Quotation Marks in Dialogue
3.5 Read Latin Suffixes
3.6 Show, Don't Tell by Using Dialogue and Thoughts
3.7 Show, Don't Tell by Using Action and Description
Chapter 4: Plot and Characters
4.1 Explain the Plot of a Story
4.2 Describe Characters and how they Impact a Story
4.3 Explain Character Perspective
4.4 Use Regular and Irregular Verbs
4.5 Use Possessives
4.6 Read Multisyllable Words
4.7 Show Time Order
Chapter 5: All About Relationships
5.1 Find how Different Characters Impact Each Other in a Story
5.2 Find the Conflict
5.3 Find how the Characters Change
5.4 Use Verb Tenses
5.5 Add Suffixes to Base Words
5.6 Read Multisyllable Sight Words
5.8 Write an Interesting Hook and Topic Sentence for Teaching Articles
5.9 Use Facts and Examples for Teaching Articles
Chapter 6: All About Language
6.1 Find and Understand Similes and Metaphors
6.2 Find and Understand Personification and Hyperbole
6.3 Use Context Clues
6.4 Find and Understand Idioms
6.5 Make Sure Words in Sentences Agree with Each Other
6.6 Use Spelling Patterns for Multisyllable Words
6.7 Use Connecting Phrases for Teaching Articles
6.8 Write a Conclusion for Teaching Articles
Chapter 7: Parts in Poetry and Drama
7.1 Understand Poetry and Onomatopoeia
7.2 Find Parts of a Drama
7.3 Find the Main Idea in Different Types of Nonfiction
7.4 Use Adjectives and Adverbs that Compare
7.5 Use Roots to Find Meaning
7.8 Use Affixes to Find Meaning
7.9 Write with Similes and Personification
7.10 Write with Sound
Chapter 8: Different Types of Fiction
8.1 Explain Differences Between Types of Fiction
8.2 Explain how Parts of Fiction are Connected
8.3 Use Key Details to Summarize the Main Idea of a Teaching Article
8.4 Use Conjunctions
8.5 Use Juicy Words
8.6 Write a Hook and Topic Sentence for Your Opinion Articles
8.7 Give Reasons to Prove Your Opinion
Chapter 9: Cause and Effect and Conflict
9.1 Use Illustration to Understand Mood
9.2 Understand Maps and Legends
9.3 Use Text Features to Find the Main Idea
9.4 Use Homophones
9.5 Use Dictionaries to Find Different Spellings and Meanings of Words
9.6 Use Words to Connect Reasons in Opinion Articles
9.7 Write a Conclusion in Opinion Articles
Chapter 10: Point of View and Perspective
10.1 Find the Point of View in a Story
10.2 Compare Perspectives in a Story
10.3 Understand how Key Details Support the Topic Sentence
10.4 Write Simple, Compound, and Complex Sentences
10.5 Use Unique Verbs and Adjectives
10.6 Use Perspective in Fiction Writing
10.7 Use Perspective in Nonfiction Writing
Chapter 11: Reasoning and Proving
11.1 Find a Perspective and the Reasons that Support it
11.2 Find a Different Perspective in Nonfiction Text
11.3 Use Search Tools to Find Information
11.4 Choose the Appropriate Language to Use for Different Purposes
11.5 Revise Writing
11.6 Edit Writing
11.7 Create Strong Research Questions
11.8 Find Good Sources for Your Topic
Chapter 12: Making Comparisons
12.1 Compare Details from Two Stories
12.2 Compare the Lesson from Two Stories
12.3 Compare the Key Details in Two Articles on the Same Topic
12.4 Do Research on Subtopics and Take Notes
12.5 Sort Notes
12.6 Use Notes to Write Paragraphs
12.7 Write an Introductory and Concluding Sentence
Chapter 1: What is in a Story?
1.1 Find the Main Events in Fiction
1.2 Find the Story Elements in Fiction
1.3 Find the Central Message or Lesson in Fiction
1.4 Summarize a Fiction Story
1.5 Use Proper Capitalization
1.6 Plan Out Your Writing
1.7 Write Leads Using Dialogue in Stories
Chapter 2: How do we Think About a Story?
2.1 Make Inferences in Fiction
2.2 Give Evidence to Support an Inference
2.3 Explain Evidence That Supports an Inference
2.4 Understand the Setting of a Fantasy Story
2.5 Write a Fantasy Story with Fantastical Settings and Characters
2.6 Explode the Climax in Stories
2.7 Use Subtle Time Transitions in Stories
Chapter 3: What do Writers do to Make Stories Interesting?
3.1 Determine How Events and Settings in Fiction Show Mood
3.2 Find and Explain How Flashbacks Are Used in Fiction
3.3 Find and Explain How Foreshadowing Is Used in Fiction
3.4 Use Context Clues to Determine the Meaning of Unknown Words
3.5 Use Relative Adverbs
3.6 Use Relative Pronouns
3.7 Use Metaphors in Stories
3.8 Write Satisfying Story Endings Using Dialogue
Chapter 4: How do we Make Sense of Nonfiction?
4.1 Examine the Structure of Nonfiction Texts
4.2 Use Inferencing Skills to Determine the Cause of Events
4.3 Explain How Visuals Can Help Readers Understand Nonfiction Texts
4.4 Order Adjectives
4.5 Use Progressive Verb Tenses
4.6 Write Reading Responses for Fiction Texts
4.7 Write Reading Responses for Nonfiction Texts
Chapter 5: How is a Nonfiction Text Put Together?
5.1 Find the Main Idea of Nonfiction Texts
5.2 Find the Key Details of Nonfiction Texts
5.3 Summarize Nonfiction Texts
5.4 Use Prepositional Phrases
5.5 Use Correct Punctuation in Quotations
5.6 Write an Introductory Paragraph for Teaching Articles
5.7 Use Connecting Phrases in Teaching Articles
Chapter 6: How do we Think About Nonfiction Sources?
6.1 Identify Primary and Secondary Sources
6.2 Compare and Contrast Primary and Secondary Sources
6.3 Compare and Contrast Information from Multiple Texts
6.4 Identify Different Kinds of Sentences
6.5 Identify Run-on Sentences and Sentence Fragments
6.6 Use Subheadings and Quotations from Texts in Teaching Articles
6.7 Use Subject-specific Vocabulary in Teaching Articles
6.8 Write a Concluding Paragraph for a Teaching Article
Chapter 7: How do Authors Persuade Readers?
7.1 Explain How Reasons Support Opinions in Opinion Articles
7.2 Explain How Evidence Supports Reasons in Opinion Articles
7.3 Use Commas Before Coordinating Conjunctions
7.4 Use Modal Verbs
7.5 Use the "I" Before "E" Spelling Rule
7.6 Give Reasons and Quoted Evidence to Support an Opinion
7.7 Write a Topic Sentence for an Opinion Article
Chapter 8: What Makes Characters Interesting?
8.1 Find Patterns in Characters That Show Personality
8.2 Find Out-of-character Behavior to Understand Plot and Characters
8.3 Understand Perspectives in Alternating Perspective Stories
8.4 Find and Understand Point of View in Stories
8.5 Use Homophones Correctly
8.6 Use Frequently Confused Words Correctly
8.7 Use Connecting Phrases in Opinion Articles
8.8 Write Concluding Sentences in Opinion Articles
Chapter 9: What are Some Different Types of Literature?
9.1 Identify Key Elements of Drama
9.2 Identify and Understand Verse and Meter in Poetry
9.3 Use Synonyms
9.4 Use Antonyms
9.5 Decide on a Main Idea and Research Questions for Research
9.6 Find Good Sources for Research
Chapter 10: How Does the Conflict Drive the Story?
10.1 Understand How Conflicts in Stories Point to the Lesson
10.2 Identify Protagonists and Antagonists in Stories
10.3 Understand Symbolism
10.4 Understand Word Connotations
10.5 Use a Thesaurus
10.6 Take Notes That Rephrase Information for Research
10.7 Sort Research Notes into Subtopics
Chapter 11: What is the Point of this Story?
11.1 Find the Theme Based on Character Changes and Mistakes
11.2 Find the Theme Based on Symbols
11.3 Find the Theme Based on "AHA Moments"
11.4 Compare and Contrast Themes in Myths
11.5 Identify Greek and Latin Affixes
11.6 Write Body Paragraphs for a Research Report
11.7 Write an Introduction and Conclusion for a Research Report
Chapter 12: Why are Words Important?
12.1 Explain the Meaning of Words That Refer to Mythological Characters
12.2 Understand Adages and Proverbs
12.3 Identify Greek and Latin Roots
12.4 Revise Writing
12.5 Edit Writing
12.6 Write a Correctly Formatted Bibliography
12.7 Use Basic Tools in Microsoft Word and Google Docs
Chapter 1: Fiction
1.1 Summarize a Fiction Story
1.2 Write a Fiction Reading Response with a Given Question
1.3 Write a Fiction Reading Response with a Self-Created Question
1.4 Explain the Use of Conjunctions, Prepositions, and Interjections in Sentences
1.5 Form Regular and Irregular Past Participles
1.6 Find Reasons and Evidence for Opinion Articles
1.7 Write an Introductory Paragraph for Opinion Articles
Chapter 2: Nonfiction
2.1 Summarize a Nonfiction Text
2.2 Write a Non-fiction Reading Response with a Given Question
2.3 Write a Non-fiction Reading Response with a Self-Created Question
2.4 Use the Perfect Form of Verbs
2.5 Use Verb Tense to Convey Time, Sequence, State, and Condition
2.6 Explain evidence and why it's important in Opinion Articles
2.7 Write Concluding Paragraphs for Opinion Articles
Chapter 3: Perspective and Purpose
3.1 Analyze Author's Choice of Words
3.2 Analyze Author's Purpose in Persuasive and Informative Sources
3.3 Analyze Author's Perspective in Primary and Secondary Sources
3.4 Find and Change Incorrect Verb Tense
3.5 Write an Introduction for Teaching Articles Using a Quote or Statistics
3.6 Include Statistics in a Teaching Article
Chapter 4: Historical Fiction
4.1 Identify the Elements of Historical Fiction Texts
4.2 Build Background Knowledge for Historical Fiction Texts
4.3 Analyze Historical Fiction Texts
4.4 Identify Biographies and Autobiographies
4.5 Use Commas and Semicolons in a Series
4.6 Creating Well-Balanced Teaching Articles
4.7 Write a Conclusion for Teaching Articles that Includes Quotations or Facts
Chapter 5: Power Struggles and Social Issues
5.1 Examine Power Struggles in Historical Texts
5.2 Examine Power Struggles in Historical Fiction
5.3 Analyze Social Issues in Fiction
5.4 Identify Adverbs in Sentences
5.5 Understand Direct and Indirect Objects
5.6 Include Historical Facts in an Historical Fiction Story
5.7 Write Leads Using Thoughts and Feelings
Chapter 6: How do we Think About Nonfiction Sources?
6.1 Analyze How External Forces Affect Characters in Fiction
6.2 Analyze the Role of Minor Characters in Fiction
6.3 Analyze Why Authors Choose Specific Character Perspectives in Fiction
6.4 Use a Comma to Separate Tags
6.5 Use a Comma to Separate Introductory Words or Phrases
6.6 Write Leads Using a Flashback
6.7 Include Symbolism in Fiction Stories
Chapter 7: Tools in Fiction
7.1 Analyze the Use of Symbolism in Fiction Texts
7.2 Analyze the Use of Foreshadowing in Fiction Texts
7.3 Use Correlative Conjunctions
7.4 Punctuate Titles Correctly
7.5 Include Foreshadowing in Fiction Stories
7.6 Write a Circular Ending for Fiction Stories
7.7 Write an Cliffhanger Ending for Fiction Stories
Chapter 8: Theme
8.1 Track and Refine Themes Throughout a Text
8.2 Analyze How Character Choices and Actions Connect to the Theme
8.3 Identify Simple and Complex Subjects and Predicates
8.4 Expand, Combine, and Reduce Sentences
8.5 Understand Science Experiment Terms
8.6 Find a Topic and Complete Research for a Science Report
Chapter 9: Comparing Themes
9.1 Connect Social Issues to Theme in Fiction
9.2 Analyze How the Author's Choices Reveal the Possible Themes in Fiction
9.3 Compare and Contrast Common Themes in Different Fiction Texts
9.4 Find and Correct Double Negatives
9.5 Decide on a Main Question for a Science Report
9.6 Write an Introduction to Your Science Report
Chapter 10: Images and Bias
10.1 Examine How Chosen Visuals Reveal Bias
10.2 Examine How Advertisements Are Used to Influence an Audience
10.3 Examine How Videos Are Used to Influence an Audience
10.4 Understand Synonym and Antonym Analogies
10.5 Understand Pronunciation Keys in Dictionaries
10.6 Write the Purpose and Hypothesis for Your Science Report
10.7 Write the Materials List and Procedure for Your Science Report
Chapter 11: Analyzing Images
11.1 Analyze Visual Elements in Nonfiction Texts
11.2 Analyze Visual Elements in Fiction Texts
11.3 Use Grade Appropriate Greek and Latin Roots
11.4 Use Grade Appropriate Greek and Latin Affixes
11.5 Present Your Data and Explain Results for Your Science Report
11.6 Explain Results and Write a Conclusion for Your Science Report
Chapter 12: Why are Words Important?
12.1 Analyze Figurative Language in Fiction Texts
12.2 Explain How Scenes and Chapters in Fiction Texts Provide Structure for Events
12.3 Understand Homographs
12.4 Revise Writing
12.5 Edit Writing
12.6 Write a Correctly Formatted Bibliography
12.7 Use Slideshows to Present Your Ideas
Chapter 1: Reading and Researching Nonfiction Texts
1.1 Understanding Ancient History
1.2 Determining the Central Idea in Nonfiction Texts and Research Topics
1.3 Using Nonfiction Text Structures to Anticipate the Central Idea
1.4 Asking Questions to Guide Research
1.5 Taking Notes on Nonfiction Texts
1.6 Outlining a Nonfiction Essay
1.7 Selecting Quotations from Nonfiction Texts
Chapter 2: Writing Nonfiction Essays
2.1 Introducing the Central Idea for a Nonfiction Essay
2.2 Emphasizing Important Facts in the Body of a Nonfiction Essay
2.3 Framing Evidence in a Nonfiction Essay
2.4 Citing Sources in a Nonfiction Essay
2.5 Including Text Features in a Nonfiction Essay
2.6 Using Expert Vocabulary in a Nonfiction Essay to Maintain a Formal Style
2.7 Writing a Conclusion for a Nonfiction Essay
Chapter 3: Revising and Editing Nonfiction Essays
3.1 Using Revision Strategies for a Nonfiction Essay
3.2 Revision Strategies: Refining Paragraph Structure in Nonfiction
3.3 Editing Strategies: Making Sentences More Complex
3.4 Editing Strategies: Finding and Correcting Sentence Fragments
3.5 Editing Strategies: Editing through a Lens of Sentence Structure and Rhythm
3.6 Editing Strategies: Checking Spelling
3.7 Using Editing Strategies for Essays
Chapter 4: Revising and Editing Nonfiction Essays
4.1 Analyzing Character Traits of Complex Characters
4.2 Analyzing Characters' Relationships with Other Characters
4.3 Analyzing Changes, Conflicts, and External Forces to Determine Character Traits
4.4 Analyzing Social Issues and Power in Fiction
4.5 Determining the Overall Tone of Fiction Texts
4.6 Differentiating Mood and Tone in Texts
4.7 Using the Connotation of Words in Literary Analysis
Chapter 5: Writing Literary Analysis Essays
5.1 Developing Your Analysis of Fiction Texts
5.2 Structuring a Thesis and Reasons for a Literary Analysis Essay
5.3 Finding Evidence for a Literary Analysis Essay
5.4 Framing Evidence for a Literary Analysis Essay with a Summary
5.5 Explaining Evidence for a Literary Analysis Essay
5.6 Transitioning in a Literary Analysis Essay
Chapter 6: Revising and Editing Literary Analysis Essays
6.1 Writing an Introduction for a Literary Analysis Essay
6.2 Writing a Conclusion for a Literary Analysis Essay
6.3 Using a Formal Style in a Literary Analysis Essay
6.4 Using Revision Strategies for a Literary Analysis Essay
6.5 Editing Strategy: Using the Correct Form of Pronouns
6.6 Editing Strategy: Using the Correct Form of Intensive Pronouns
6.7 Editing Strategy: Correcting Improper Shifts in Pronouns
Chapter 7: Comparing and Contrasting
7.1 Analyzing Themes through Character Lessons
7.2 Comparing Social Issues in Texts
7.3 Comparing Themes in Texts of Different Genres or Formats
7.4 Finding Evidence for a Compare and Contrast Essay
7.5 Writing Comparing and Contrasting Essays
7.6 Editing Strategy: Correcting Vague Pronouns
7.7 Editing Strategies: Using Parentheses, Dashes, or Commas Properly
Chapter 8: Analyzing Nonfiction Texts
8.1 Synthesizing Information from Multiple Texts
8.2 Summarizing Nonfiction Texts
8.3 Analyzing the Tone of Nonfiction Texts
8.4 Analyzing the Author's Perspective
8.5 Evaluating the Evidence of a Nonfiction Source
8.6 Using Greek and Latin Affixes and Roots
Chapter 9: Writing Opinion Essays
9.1 Forming an Opinion for an Opinion Essay
9.2 Structuring a Thesis for an Opinion Essay
9.3 Finding Evidence for an Opinion Essay
9.4 Framing Evidence for an Opinion Essay
9.5 Writing an Introduction for an Opinion Essay
9.6 Writing a Conclusion for an Opinion Essay
9.7 Using Revision Strategies for an Opinion Essay
Chapter 10: Writing as a Reader
10.1 Examining the Structure of Fiction and the Unfolding of the Plot as a Writer
10.2 Reading Fiction Like a Writer
10.3 Analyzing as a Writer How Authors Develop Themes
10.4 Selecting Personal Narrative Topics
10.5 Outlining a Personal Narrative Story
10.6 Developing Character Personalities for a Personal Narrative Story
10.7 Focusing the Narrator's Point of View in a Personal Narrative Story
Chapter 11: Writing Personal Narratives
11.1 Writing the Lead for a Personal Narrative Story
11.2 Using Narrative Techniques to Direct the Reader's Attention to the Central Idea of the Personal Narrative Story
11.3 Building the Tension and Developing the Tone in a Personal Narrative Story
11.4 Incorporating Figurative Language into a Personal Narrative Story
11.5 Ending a Personal Narrative Story
11.6 Revision Strategies: Refining Paragraph Structure in Fiction
11.7 Using Revision Strategies for a Personal Narrative Story
Chapter 12: The Power of Words and Information
12.1 Exploring Types of Poetry
12.2 Exploring the Power of Poetry
12.3 Writing Poetry
12.4 Using Revision Strategies for Poetry
12.5 Completing Cause/Effect, Part/Whole, and Item/Category Analogies
12.6 Using Atlases, Encyclopedias, and Almanacs
12.7 Navigating a Library
Chapter 1: Reading and Researching Nonfiction Texts
1.1 Understanding the Medieval and Early Modern Age
1.2 Using Nonfiction Text Structures to Determine Meaning
1.3 Using Nonfiction Text Features to Determine Meaning
1.4 Analyzing Connections Between Ideas, Individuals, and Events
1.5 Using Note Taking Strategies to Capture Meaning
1.6 Synthesizing and Summarizing Nonfiction Texts
Chapter 2: Analyzing Nonfiction Texts
2.1 Determining Author's Purpose
2.2 Assessing Accuracy and Validity of Texts
2.3 Using Context and Connotation to Determine Meaning and Tone
2.4 Assessing Author's Perspective and Tone in Texts
2.5 Preparing Oral Reports
2.6 Presenting Oral Reports
Chapter 3: Analyzing Historical Fiction
3.1 Researching to Support Reading of Historical Fiction Texts
3.2 Analyzing Setting in Historical Fiction Texts
3.3 Analyzing Characters and Their Perspectives in Historical Fiction Texts
3.4 Analyzing Tone in Historical Fiction Texts
3.5 Analyzing How Various Literary Elements Affect Each Other
3.6 Understanding Irony in Literature
3.7 Understanding Paradox and Sarcasm in Literature
Chapter 4: Analyzing Themes in Literature
4.1 Analyzing Symbolism to Determine Themes
4.2 Analyzing Motifs to Determine Themes
4.3 Analyzing Literary Elements Again after Reading to Refine Theme Statements
4.4 Understanding Phrases
4.5 Understanding Dependent and Independent Clauses
4.6 Identifying the Important Parts of Sentences
Chapter 5: Outlining Literary Analysis Essays
5.1 Formulating a Thesis for a Literary Analysis Essay
5.2 Drafting Strong Arguments and Evidence for a Literary Analysis Essay
5.3 Explaining Evidence for a Literary Analysis Essay
5.4 Using Different Types of Sentences
5.5 Identifying Misplaced and Dangling Modifiers
5.6 Using Commas to Separate Coordinate Adjectives
Chapter 6: Writing Literary Analysis Essays
6.1 Summarizing Plots in a Literary Analysis Essay
6.2 Writing an Introduction for a Literary Analysis Essay
6.3 Establishing a Formal Tone in a Literary Analysis Essay
6.4 Writing a Conclusion for a Literary Analysis Essay
6.5 Revising Literary Analysis Essays
6.6 Editing Literary Analysis Essays
Chapter 7: Informational Articles in a Journalistic Style
7.1 Recognizing the Difference Between Informational and Journalistic Writing
7.2 Researching Current Events for Journalistic Articles
7.3 Writing the Body of a Journalistic Article
7.4 Establishing a Journalistic Tone in an Article
7.5 Using Narrative Writing Techniques to Begin a Journalistic Article
7.6 Completing Journalistic Articles with the Finishing Touches
Chapter 8: Comparing and Contrasting
8.1 Analyzing Multimedia Versions of Fiction Texts
8.2 Analyzing Multimedia Versions of Nonfiction Texts
8.3 Comparing and Contrasting Multimedia and Text
8.4 Comparing and Contrasting a historical event and a historical fiction story
8.5 Outlining and Writing a Compare and Contrast Essay
Chapter 9: Planning Realistic Fiction Stories
9.1 Developing the Central Idea of a Realistic Fiction Story
9.2 Developing the Plotline in a Realistic Fiction Story
9.3 Developing Characters in a Realistic Fiction Story
9.4 Developing Setting in a Realistic Fiction Story
9.5 Selecting the Point of View for a Realistic Fiction Story
9.6 Using Greek and Latin Affixes and Roots
Chapter 10: Writing Realistic Fiction Stories
10.1 Writing an Engaging Lead for a Realistic Fiction Story
10.2 Revealing Characters in a Realistic Fiction Story
10.3 Revealing the Setting in a Realistic Fiction Story
10.4 Summarizing in Fiction Writing
10.5 Writing a Satisfying Ending for a Realistic Fiction Story
10.6 Manipulating Paragraph and Sentence Structure To Add Emphasis and Tension
Chapter 11: Revising Realistic Fiction Stories
11.1 Revision Strategy: Incorporating Symbolism
11.2 Revision Strategy: Determining What to Keep and What to Cut
11.3 Revision Strategy: Trimming to Make Stories Better
11.4 Revising Realistic Fiction Stories
11.5 Identifying and Correcting Frequently Confused Words
11.6 Editing Realistic Fiction Stories
Chapter 12: Genre Studies: Dramas
12.1 Author Study: Shakespeare
12.2 Analyzing the Structure of Dramas
12.3 Analyzing Plot Development in Dramas
12.4 Analyzing Character Types in Dramas
12.5 Completing Analogies
12.6 Safety and Privacy of Digital Information
Chapter 1: Researching a Historical Figure
1.1 Understanding American History (Non-Fiction)
1.2 Analyzing Connections in Nonfiction Texts (Non-Fiction)
1.3 Analyzing Less Structured Nonfiction Texts (Non-Fiction)
1.4 Analyzing Contradictory Texts (Non-Fiction)
1.5 Distilling Several Central Ideas down to One (Non-Fiction)
1.6 Synthesizing Information (Non-Fiction)
1.7 Including In-text Citations or Footnotes (Language Skills)
Chapter 2: Structuring a Narrative Nonfiction
2.1 Defining Narrative Nonfiction (Non-Fiction)
2.2 Basing a Narrative Nonfiction around a Historical Figure (Non-Fiction)
2.3 Establishing a Central Idea and Theme for a Narrative Nonfiction (Non-Fiction)
2.4 Establishing the Conflict and Tension in a Narrative Nonfiction (Non-Fiction)
2.5 Preparing Quotations for Texts Using Brackets and Ellipses (Language Skills)
2.6 Using Block Quotes (Language Skills)
Chapter 3: Writing Narrative Nonfiction
3.1 Using Narrative Writing Skills in a Narrative Nonfiction (Non-Fiction)
3.2 Incorporating Facts into a Narrative Nonfiction (Non-Fiction)
3.3 Determining the Author's Voice in Nonfiction (Non-Fiction)
3.4 Imitating an Author's Voice in a Narrative Nonfiction (Non-Fiction)
3.5 Identifying Verbals (Language Skills)
3.6 Using the Active and Passive Voice (Language Skills)
Chapter 4: Reading Dystopian Novels
4.1 Defining Dystopian Novels (Fiction)
4.2 Analyzing Power in Dystopian Novels (Fiction)
4.3 Imagining Settings in Dystopian Novels (Fiction)
4.4 Analyzing Mood in Dystopian Novels (Fiction)
4.5 Connecting the Setting of Dystopian Novels to Our Own World (Fiction)
4.6 Understanding Analogies (Fiction)
4.7 Understanding Allusions (Fiction)
Chapter 5: Analyzing Dystopian Novels
5.1 Analyzing Character Development in Dystopian Novels (Fiction)
5.2 Recognizing Archetypes in Dystopian Novels (Fiction)
5.3 Analyzing the Character's Perspective in Dystopian Novels (Fiction)
5.4 Analyzing Character Traits vs. Reader Perception (Fiction)
5.5 Analyzing Symbolism in Dystopian Novels (Fiction)
5.6 Analyzing Themes in Dystopian Novels (Fiction)
Chapter 6: Writing Literary Analysis Essays
6.1 Structuring a Thesis for a Literary Analysis Essay (Fiction)
6.2 Drafting Arguments and Evidence for a Literary Analysis Essay (Fiction)
6.3 Evaluating Evidence for a Literary Analysis Essay (Fiction)
6.4 Considering Counterclaims for a Literary Analysis Essay (Fiction)
6.5 Using the Indicative, Imperative, Interrogative, Conditional, and Subjunctive Mood (Language Skills)
6.6 Correcting Inappropriate Shifts in Verb Voice and Mood (Language Skills)
Chapter 7: Revising Literary Analysis Essays
7.1 Summarizing Fiction Texts in a Literary Analysis Essay (Fiction)
7.2 Writing an Introduction and Conclusion for a Literary Analysis Essay (Fiction)
7.3 Using Transitions and Creating a Tone in a LIterary Analysis Essay (Fiction)
7.4 Revising a Literary Analysis Essay (Fiction)
7.5 Use Verbs in Active and Passive Voice and in the Conditional and Subjunctive Mood to Achieve Particular Effects (Language Skills)
7.6 Using Commas, Ellipses, and Dashes to Pause (Language Skills)
Chapter 8: Researching for Persuasive Letters
8.1 Understanding Different Types of Persuasive Writing (Non-Fiction)
8.2 Understanding and Analyzing Less Conventional Research Texts (Non-Fiction)
8.3 Researching Like a Social Scientist (Non-Fiction)
8.4 Determining the Accuracy and Validity of Texts (Non-Fiction)
8.5 Recognizing Fake News (Non-Fiction)
8.6 Avoiding Biased Internet Searches (Non-Fiction)
Chapter 9: Determining Bias in Texts
9.1 Analyzing Author Bias in Texts (Non-Fiction)
9.2 Analyzing Your Own Biases (Non-Fiction)
9.3 Establishing a Thesis and Arguments for a Persuasive Letter (Non-Fiction)
9.4 Finding and Evaluating Evidence for a Persuasive Letter (Non-Fiction)
9.5 Using Semicolons to Link Independent Clauses (Language Skills)
9.6 Using Colons to Introduce a List or Quotation (Language Skills)
Chapter 10: Writing Persuasive Letters
10.1 Framing and Explaining Evidence for a Persuasive Letter (Non-Fiction)
10.2 Considering the Counterclaims for a Persuasive Letter (Non-Fiction)
10.3 Structuring the Body of a Persuasive Letter (Non-Fiction)
10.4 Writing an Introduction and Conclusion for a Persuasive Letter (Non-Fiction)
10.5 Revising a Persuasive Letter (Non-Fiction)
10.6 Editing a Persuasive Letter (Language Skills)
Chapter 11: Analyzing Alternate Versions
11.1 Evaluating Advantages and Disadvantages of Multimedia Texts (Fiction)
11.2 Analyzing the Accuracy of Film Versions to their Text Counterparts (Fiction)
11.3 Analyzing Modern Stories and their Traditional Counterparts (Fiction)
11.4 Understanding Figures of Speech (Language Skills)
11.5 Using Greek and Latin Affixes and Roots (Language Skills)
11.6 Using Hyphens Correctly (Language Skills)
Chapter 12: Author's Style in Literature
12.1 Understanding Irony (Fiction)
12.2 Understanding Satire (Fiction)
12.3 Determining Author's Style in Fiction Texts (Fiction)
12.4 Determining the Narrative Style of a Fiction Text (Fiction)
12.5 Developing Style as a Fiction Writer (Fiction)
12.6 Identifying and Correcting Frequently Confused Words (Language Skills)