About Afficient Academy Remote Online Programs
Afficient Math is an intelligent computerized math learning program based on US standards for grades 2-12. Afficient Math enables students to self-learn grade level math, build a strong foundation and advance ahead at one's own pace. More detailed information about Afficient Math can be found here.
Afficient Math Remote Online Program is for those students who can not access Afficient Academy Learning Centers, located around the Bay Area of California. Students who can access our learning centers are strongly recommended to enroll in one of our learning centers, where our learning center teachers can observe the students, offer help & guidance and can easily have face to face interactions with students as well as parents.
After being enrolled in Afficient Math Remote Online Program, each student is assigned to a math advisor, who monitors the progress of the student, provides guidance and coaching. Advisors regularly communicate with students and parents through emails. They can also set up a phone or video session as needed to resolve any issues encountered.
Request Information
About Remote Programs
https://www.afficienta.com/wp-admin/admin-ajax.php
Refund Policy and Procedures
For the first-time new course enrollment, the parent can request through the parent account of MyAA for 100% refund within 14 days from the course starting date.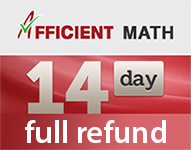 Tuition for Afficient Math Remote Online Program
Tuitions will be automatically billed periodically until the subscription is suspended or cancelled.
Two billing options are available:
| Every three-months | $400 |
| --- | --- |
| Monthly | $150 |